1-5
Middels de 'Blauwe Gazellen in woord en beeld'! kunnen we als HGC-ers met elkaar delen waar we mee bezig zijn en virtueel verbonden blijven. Alle spelers van jong tot oud, trainers, coaches, managers, ouders en vrijwilligers kunnen hun verhaal, hun wens of hun filmpjes van bijvoorbeeld skills, trainingsoefening, quizvraag, mop e.d. insturen naar
[email protected]
. Deze worden geplaatst in de Nieuwsbrief, op de site, op instagram en in de app.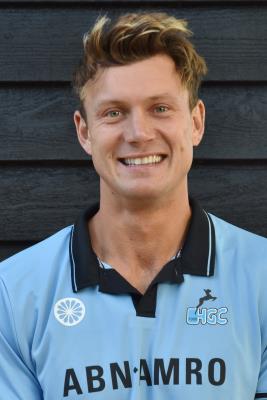 Fellow Isolated HGC members, Hi!
Firstly I hope everyone is safe and heathy during this crazy time.
I am typing this message with my well sterilised hands from my well sterilised couch. (ok I haven't sterilised my couch)..
My time since the break..
It goes without saying I miss the time spent around the team and the commitments with my A1 girls. This was a big hole in my life left to fill!
And maybe more than anything the unquenchable thirst of competition on a Sunday afternoon!..
Have to admit.. I like routine, so the first days I did feel a bit lost.
Time with my team mates, stopped. 4 times per week with A1 girls, stopped. My gym, closed. My fav coffee spots, closed. My family, a whole world away with a 10 hour time difference.
Luckily for me - I am a pretty self motivated person. And I wouldn't allow myself to waste this time and let the days slide on by.
Saying that.. sorted a stationary exercise bike for my room.. so between that and a good imagination I have myself a pretty solid morning workout each day.. Like I said, I like routine. I wake the same time, make my morning coffee and crank out a good 60 min workout. Every day. No exceptions.
That sets my day up to be productive. I know if I move, I am a better me.
Don't get me wrong.. there has been an afternoon nap or two had also!
Oh, I've also watched more news than ever in my life. So am now a self proclaimed scientist on Flu Strains. I have a feeling Rutte will call.
I have also been running food deliveries for the club each afternoon (More Routine) I have totally loved it. Met some different members that I have only ever seen from the sidelines of the pitch.. and obviously seen some terrible houses around Wassenaar!
Other than that.. have Utilized Zoom for some H1 and MA1 catch up times - and just doing my best to keep life as normal as possible.. Keep my running up on our normal training days and gathering all my courage to brave the supermarket!
Well, thats all from me!
Strength to all.
Can not wait for some better days when we can get together at the club.. and who knows.. maybe even a handshake.
Nick Budgeon #18